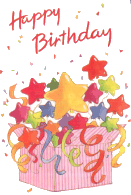 Fourteen years ago, Pirates & Privateers was born. To celebrate I'm holding a contest. The winner will receive an autographed copy of my new book,
A Tall Ship, a Star, and Plunder
, and a $20 Amazon.com gift card.
Here are six answers involving piracy that have appeared on past episodes of
Jeopardy!
Each of your responses should be
phrased in the form of a question
, then
send your entry to me
no later than 17 April 2014.
1. In 1575 this "Don Quixote" author's ship was overtaken by pirates; he spent five years as a captive in Algiers.
2. As his top admiral, Suleiman hired the pirate Khllayr Ad-Din, known as this for his red beard, like a crusading emperor.
3. In 1699 this pirate was captured in Boston; he was hanged two years later, leaving legends of buried treasure.
4. In June 1579, this British captain sailed into a harbor on the west coast; San Franciscans say it was their bay.
5. In August 2011 this seventeenth-century pirate captain's flagship was found in waters off Panama; as yet no rum has been found.
6.
Queen Anne's Revenge
was this pirate's ship.
My husband will pick one lucky winner from all entries received, and the winner will be announced on 20 April, when I publish the May issue of
Pirates and Privateers
. Only one entry per person.
Deadline to enter: 17 April 2014
.